New Berlin Chiropractor : Dr. Jeffry Dauk
I felt like an invalid and I was only 19 years old!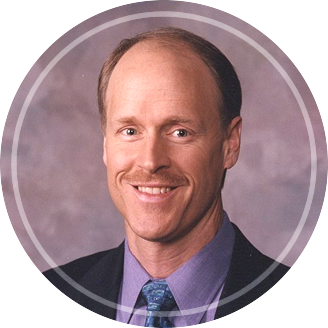 I was trying out for college basketball and they had us doing "gassers". We'd run as fast as we could, then stop, bend, touch the line, run back and touch the line etc. We did it over and over again. I walked out tired and kinked over to the side. I woke up the next day with low back pain that kept getting worse despite my efforts of stretching and heat. I couldn't believe it. I felt like an invalid and I was only 19 years old. I couldn't make it to the second day of tryouts. It didn't get better and I didn't know what to do. My parents took me to a chiropractor that had helped our neighbor. I walked into the office crooked and in severe pain. I walked out straight and in only mild pain. What a relief…and it was so simple, no drugs, no needles. That made a big impact on me and I began looking into chiropractic as a career. I wanted to be able to help other people like that.
Chiropractic Education
I graduated from the prestigious, founding college of chiropractic, Palmer College of Chiropractic in Davenport, Iowa. Most people don't realize that chiropractic college is a 4 year post-graduate program just like medical school or dental school. We had 18-24 credits per quarter and it was pretty grueling. After a full day of school, I'd eat, work out and head to the library to study for the rest of the evening. In the past 32 years since graduation, I've done hundreds of hours of continuing education in techniques, rehabilitation, nutrition, permanent impairment rating and orthopedics. In addition to that, I completed an additional 3 1/2 year, post-doctoral orthopedic program.
I'm a diplomat with the National Board of Chiropractic Examiners and a member of the Chiropractic Society of Wisconsin. I am one of the "Staff Chiropractors for the Wisconsin Athletic Clubs", the largest health club chain in Wisconsin and I'm featured in their quarterly newsletters.
I have been a featured speaker on the topic of chiropractic, wellness, nutrition and health for many different groups and organizations around town as well as making several television appearances.
Hippocrates said "First, do no harm." When you have pain, the first thing you should try is something that will do no harm to your body, like gentle specialized chiropractic treatments.
I want to educate people how to take care of their bodies.
There are many things people can do to avoid pain, keep their joints healthy and keep their bodies healthy. I offer free classes on a variety of topics for my patients. I also have educational DVD's in the clinic that patients can watch.
In addition, there are a couple things I'd like to teach every patient:
Health is not merely the absence of symptoms.
The nervous system controls and coordinates everything in the body. Every muscle, every organ, every system. My job as a chiropractor is to remove nervous system interference so your body can operate the way God intended it to.
Helping others
I have had patients with hiatal hernias and gastric reflux gain complete relief after I've treated them. I've had patients who came into the office with a migraine… get up off the table saying "Oh my God…my headache is completely gone! I can't believe it." I've had mothers thank me because their colicky babies began sleeping through the night after their first adjustment. I've had patients cancel scheduled surgery because their back problem was corrected without it. So…it's come full circle. I am now helping others just like that chiropractor helped me….and it feels good.
Away from Dauk Chiropractic
I've been happily married for 32 years. My wife and I met each other when we were eleven years old. In my spare time, I spend way too much time reading about health and wellness (or so my wife tells me). :) We don't get away very often, but when we do, we like to visit Door County. We both grew up in the area and have deep roots in the community.
I'm a bit of a health conscious guy. My job requires a lot of energy and can be physically demanding because I'm standing all day and my hours are pretty long. I realized years ago, that in order to have the energy I need, I'd have to "walk my talk" and take very good care of myself. I eat well, stay fit, get adjusted regularly and I haven't needed or taken any prescription drugs or antibiotics in over 30 years. We try to eat organic when possibly and avoid chemical additives, preservatives, pesticides, etc.. in our food, water, air and environment. Meat, vegetables, nuts, fruits …the basics. When in doubt, eat "real food". Example: butter is better than artificial margarine and a homemade cookie is better than a fat-free, preservative laden, low-cal cookie. If I can't pronounce it…I don't eat it.
Enough about me….how can I help you? I hope I get the opportunity to meet you in person and discuss your specific health challenge. Give our office a call and let's get started!
---
Dr. Jeffrey Dauk | Dauk Chiropractic | Chiropractor New Berlin